Hydrographic Surveys
Hydrographic surveys are conducted to measure the water depths and to depict the seabed topographies.
OEC performs hydrographic surveys employing echo sounders mounted either along the side or on the bottom of a survey ship. We select the optimum echo sounder from among several types of single-beam or multi-beam systems depending on water depth and other relevant conditions.
We can offer multi-beam echo sounding for areas up to 7,500m deep. The right hand figure shows waters around Japan up to 200m in depth in yellow and up to 7,500m in depth in pink. Our single-beam echo sounders can be applied to the whole ocean including the deepest trenches shown in blue in the figure.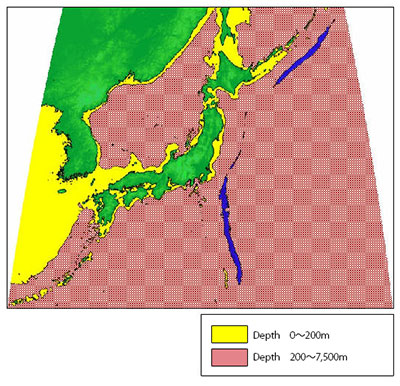 Single-Beam Echo Sounding
Single-beam echo sounding can measure the water depth just below the transducer of the echosounder. This type of echo sounder is ideal for shallow waters in that it has the advantages of speedy setup and lower cost surveys. We also operate a shingle-beam echo sounder for ultra-deep waters.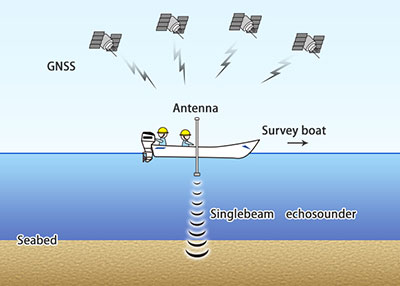 Multi Beam Echo Sounding
Multi-beam echo sounders transmitting fan-shaped beams allow efficient and accurate measurement of water depths with a swath width of about 2 – 5 times the water depth along the ship's track.
We can conduct surveys for clients from shallow to 7,500m deep surveys utilizing the most suitable echo sounding system from among our range of equipment.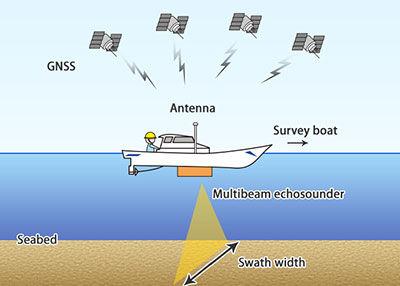 Applications
Hydrographic charts
Management and verification of marine construction
Fisheries
Routes for submarine cables or pipe lines
Submarine construction
Rivers, dams and reservoirs